You've picked your new home and call to schedule a home inspection. Then, the person booking it asks if you would also like a radon test done. Your next question may be, what is radon?  And why do I need to test for it? Jeff, the FYI Home Inspection Guy, is here to tell you the basics and why he recommends a radon test with every home inspection.
What is Radon?
Radon is an odorless, tasteless, and odorless gas that causes lung cancer. It forms naturally from a breakdown of uranium in soil or rock into radium, which then turns into radium gas. This gas can then enter the home through cracks in the walls, basement floors, foundations, and other openings. As it decays, it releases radioactive byproducts that are inhaled and can cause lung cancer.
According to the American Lung Association, radon exposure is the second leading cause of cancer in the United States, after smoking. Exposure does not cause any immediate symptoms, but the long term threat of lung cancer is significant. This is a serious issue, but radon can be found and dealt with. Please visit the EPA site to gain more specific information and resources. 
How is Radon Detected?
The only way to test the level of radon in the home is to test the air. Various forms of DIY kits and detectors can be purchased at home improvement stores. One straightforward way to check is by scheduling a  test by a licensed professional around the same time you do your home inspection. 
What to Do After The Test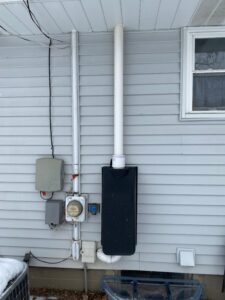 If the test results come back higher than 4.0 pCi/L, action needs to be taken. A radon mitigation system should be installed. A simple system using underground pipes and an exhaust fan directs the gas out of the home into the open air in many cases. Sometimes, sealing cracks and other openings in the floors and walls in the lowest part of the home will assist in the mitigation process. A licensed mitigation professional can recommend the best system to fit the needs of the home.
While this sounds like a scary issue, having the knowledge and resources will give you direction to keep your family safe. Here at Prospective Home Inspections, we want to provide you with all the resources to protect your family. We proudly offer radon testing that can be done along with your home inspection.